Bonded Fillings - Kitchener dentist - B Smaily Dental
Dental problems, such as tooth decay or damage, could only previously be treated with metal or amalgam fillings that often contained amounts of mercury. However, thanks to continued advancements in dental technology, we're happy to offer our patients another option with modern materials and no negative health or cosmetic effects:

tooth-coloured bonded fillings

.
We offer a range of services for all needs, using the best accepted practices in dentistry and modern materials that can last for a long time. We are able to provide family, cosmetic and emergency dentistry in Kitchener, offering emergency care to help you when you need it. Fillings are an ideal solution for teeth that have been worn down or to fill in cavities.
When you come into our office, we will make certain to examine your case and needs thoroughly, finding the best approach to improve your oral health and your smile. Should we recommend fillings, we will make sure you understand and agree with the treatment. They can be applied in one to two appointments, and are bonded to your teeth using ultra-violet light. This bond is strong and durable.
Bonded fillings are made of a tooth-coloured composite resin that is strong, durable, and natural looking. Once applied to the tooth's structure, the fillings restore the problematic tooth while enhancing its appearance. Compared to traditional metal fillings, bonded fillings are more aesthetically pleasing since the composite resin is matched to the unique shade of your teeth. With proper care and regular visits to the dentist, your fillings should last a long time.
Bonded fillings

can usually be applied in a single appointment so you can have a healthier smile on the same day. If you're ready to give your smile an upgrade,

contact

Smaily Dental

to

set up an appointment

or ask any questions you might have.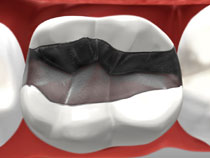 Last Updated On
2020-07-14