Full Mouth Restoration - Dentist Kitchener - B Smaily Dental
Some patients may be suffering from a combination of dental problems, such as severe stains, heavy decay, missing teeth, cracks, or gum disease. To correct these oral health issues and restore the health and harmony of your smile, Smaily Dental offers full mouth restorative dentistry for your entire family. Our full mouth restoration involves using a variety of restorative and cosmetic treatments, such as cleanings, teeth whitening, crowns, veneers, bridges, gum therapy, root canal therapy, laser dentistry, and implants.
During your examination, we will carefully examine your mouth using the latest technology, such as digital X-rays, to create a customized treatment plan to recreate your natural smile. If you're serious about improving your smile, contact our Kitchener Dentist today. We'll be glad to answer any questions that you may have.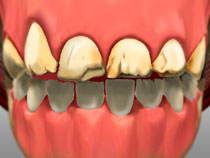 Last Updated On
2020-07-14