Amalgam Free Dentistry in Kitchener - Dentist in Kitchener
If you are put off by unsightly metal fillings with mercury you will be happy to know that Smaily Dental offers restorative dentistry that is free of mercury and amalgam materials. Our amalgam-free dental solutions can restore problematic teeth and correct oral health problems to improve your smile, giving you the peace of mind that you will not have any adverse side effects. Using modern materials like porcelain, natural resins and gold, we can give any aesthetic or restorative procedure a natural look that will stand out.
We offer a wide range of amalgam-free treatments for your family including bonded fillings, dental crowns, and dental bridges for teeth that has been chipped, cracked, stained or may be misaligned. We also offer non surgical gum therapy, root canal therapy, porcelain veneers, laser dentistry, and even tooth implants to address just about any problem that might arise. We welcome patients of all ages, and can proudly help the whole family in our modern and comfortable office. Depending on your dental needs, we will create a customized treatment plan to ensure that you achieve a healthy beautiful smile. We can do this by thoroughly examining your case and using the right tools to make your diagnosis. In this way we can solve any issue that may be holding you back and ensure no other problems go undetected.
Want to learn more about our amalgam-free dental treatments? We are happy to answer any questions you might have or explain any procedure in detail. Our commitment to high standards and continuing education ensures that we can help you get and maintain a brilliant smile. Contact Smaily Dental at (519) 748-231 to set up an appointment. Our practice has been serving the Tri-Cities, Guelph, and Kitchener areas for 11 years, so you can rest assured you'll be receiving the best dental care that we have to offer.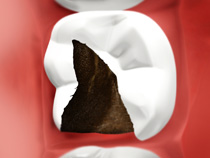 Last Updated On
2020-07-14